Online Training Courses
Please be patient as it may take a moment or two for the presentations to load. The presentations include mini-quizzes interspersed throughout the training and one big quiz at the end.
Training Units are APPROVED in Colorado, Idaho, Indiana, Maryland, Nebraska, Nevada, New Mexico, Ohio, Tennessee, Washington State, Wisconsin and Wyoming.  View a list of our current online training class approvals. Also accepted in New Mexico and California.
We use quizzes to engage our viewers, reinforce learned concepts, and to verify attendance.
To attend an online training class, select the class from the shopping cart menu below.  Courses are priced at $20 per contact hour.  One contact hour = 0.1 TUs.
LOGIN/SIGNUP PAGE for iSPRING ACCOUNTS & PREVIOUSLY PURCHASED COURSES.
We now offer a study only option at no cost for up to 30 days at a time.  No training units or certificates of completion are issued.  To request access to our study only option, please complete the request form.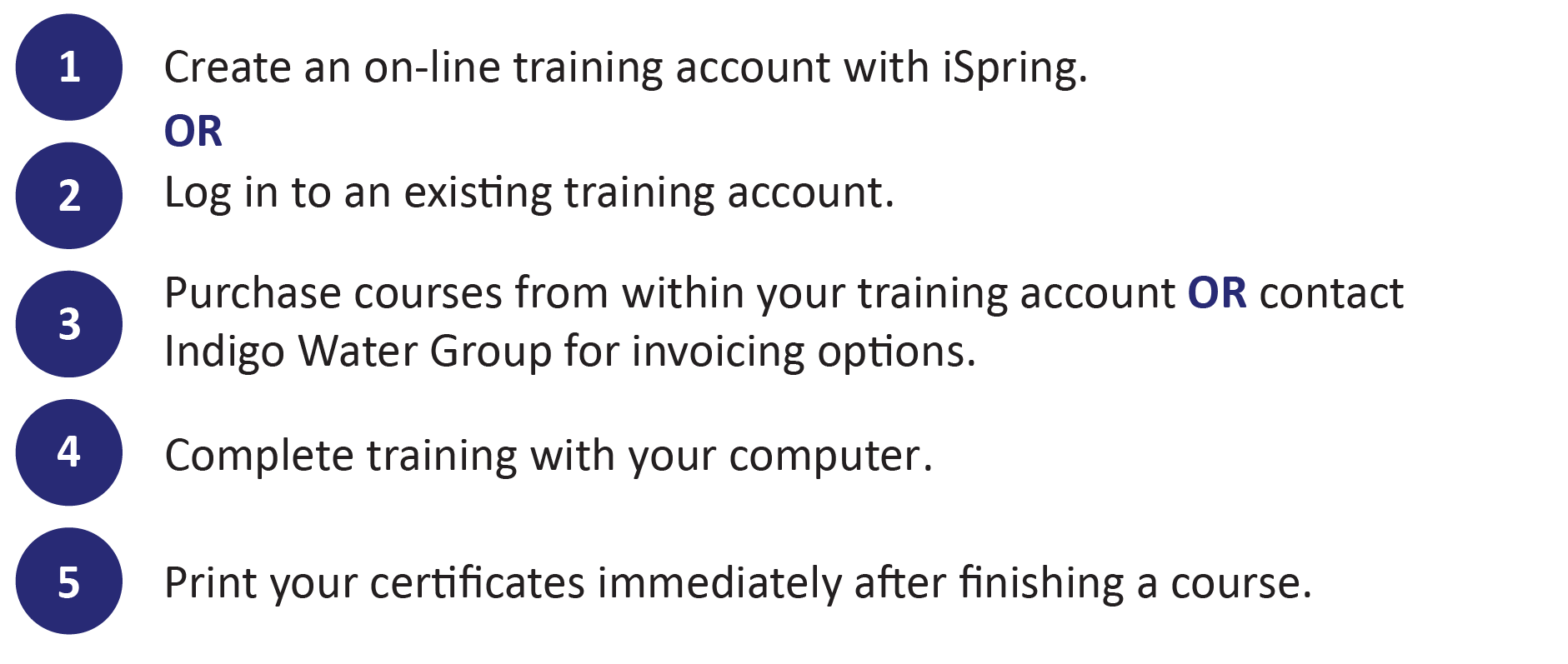 Course List
Math Modules
MATH-000 Math Strategies for Success
MATH-001 Unit Conversions
MATH-002 Geometry
MATH-003 Chemical Dosing
MATH-004 Velocity and Hydraulic Detention Time
MATH-005 Geometry and Velocity
MATH-006 Using the Two-Normal and Three-Normal Equations
Universal Topics
ALL-001 Pumps
ALL-002 Hydraulics Basics
ALL-003 Hydraulics of Pumped Systems
ALL-004 Aeration Systems
ALL-005 Corrosion Control
ALL-006 Maintenance
ALL-007 Electrical Fundamentals
ALL-008 Representative Sampling
ALL-009 Disinfection Byproducts
ALL-010 Chemical Handling
ALL-011 Backflow Preventers
SAF-001 Trenching and Shoring
SAF-002 Confined Space Entry
SAF-003 Lockout / Tagout
SAF-004 Demolition Saw Safety
Collection Systems Topics
COL-001 Introduction to Collections Systems
COL-002 Collection System Inspection, Testing, and Cleaning – Part 1
COL-003 Collection System Inspection, Testing, and Cleaning – Part 2
COL-004 Lift Stations
COL-005 Pretreatment and Pollution Prevention
COL-006 Manholes
Wastewater Treatment Topics
WWT-001 Introduction to Wastewater:  A Plant Overview
WWT-002 What's In My Wastewater: Definitions and Typical Ratios
WWT-003 Preliminary Treatment
WWT-004 Primary Treatment
WWT-005 Biological Treatment Basics
WWT-006 Fixed Film: Trickling Filters and RBCs
WWT-007 Lagoons and Wetlands
WWT-008 Lagoons and Fixed Film
WWT-009 Activated Sludge Basics
WWT-010 Activated Sludge Basics: A Mechanical Approach
WWT-011 Top 10 Questions for Activated Sludge Process Control Answered
WWT-012A Activated Sludge Microbiology:  A View Beneath the Surface
WWT-012B Activated Sludge Microbiology: Microscope Basics and the Micro Exam
WWT-013 Activated Sludge Microbiology: Filaments and Settling Problems
WWT-014 Types of Activated Sludge Systems
WWT-015 Sequencing Batch Reactors
WWT-016 Nitrification and Denitrification
WWT-017 Biological and Chemical Phosphorus Removal
WWT-018 State Point Analysis for Secondary Clarifiers
WWT-019 Activated Sludge Process Control Tests and Troubleshooting
WWT-020 Chlorine Disinfection
WWT-021 UV Disinfection
WWT-022 Introduction to Solids Handling and 503 Regulations
WWT-023 Aerobic and Anaerobic Digestion
WWT-024 Belt Filter Presses
WWT-025 Centrifuges
WWT-026 Odor Control
WWT-027 Treatment of Metal Wastestreams
WWT-028 Completing the Discharge Monitoring Report (not yet available)
WWT-029 How Did CDPHE Determine My Permit Limits?
WWT-030 MRT for Wastewater Treatment and Collection Systems
Drinking Water Treatment & Distribution Topics
WATER-001 Introduction to Small Water Systems
WATER-002 Water Sources Part 1
WATER-003 Water Sources Part 2
WATER-004 Drinking Water Treatment Part 1
WATER-005 Water Treatment Part 2 (Disinfection, Water Focus)
WATER-006 Intro to Distribution Systems
WATER-007 MRT Drinking Water Regulatory Course
WATER-008 Corrosion Control and Laboratory
Laboratory Procedures
LAB-001 Basic Chemistry
LAB-002 Laboratory – pH, Alkalinity, and Hardness
LAB-003 Laboratory – TDS, Conductivity, and Turbidity
LAB-004 Laboratory – Total Suspended Solids
LAB-005 Laboratory – Proper Use of Spectrophotometers (QA/QC)
LAB-006 Laboratory – Chlorine Residual by DPD
LAB-007 Laboratory – Spectroscopic Tests: Fluoride, Nitrite, and Nitrate
LAB-008 Laboratory – Ion-Selective Electrodes (ammonia, nitrate, fluoride)
LAB-009 Laboratory – Jar Testing
LAB-010 Laboratory Testing – BOD and Winkler DO
LAB-011 Laboratory Testing – Total coliforms by MPN
Downloadable EPA Manuals
EPA has a ton of useful manuals for water and wastewater operators.  We've compiled some of them here.
Videos from YouTube to Further Your Education
These videos are not approved for training units, but are short and very well done.
*FREE for WEF members. Non-members will be charged $40.