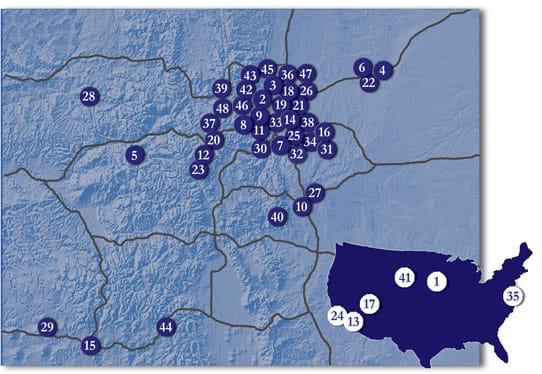 Click on the thumbnails below to see larger maps.
Current and Past Projects
Our staff has provided training opportunities, operations assistance, process modeling, and planning services for municipalities and districts throughout Colorado and the United States. As a new company, many of these projects were completed in conjunction with Integra Engineering.
Leprino Foods, Allendale, MI
City of Boulder 75th Street WWTP
Boulder Operators School
City of Brush
Town of Carbondale
Cargill Meat Solutions
Centennial W&SD
Central Clear Creek SD
Colorado School of Mines
Colorado Springs Utilities Las Vegas Street WWTP
Coors Brewing Company
Copper Mountain Consolidated Metropolitan District
City of Dinuba, CA
Denver Water
City of Durango WWTP
East Cherry Creek Valley W&SD
City of Elko, NV
Town of Erie
Fairways Metropolitan District
Frisco Sanitation District
Front Range Community College
Leprino Foods, Fort Morgan, CO
Leadville Operators School
Leprino Foods, Lemoore, CA
Littleton/Englewood WWTP
City of Northglenn
Paint Brush Hills Metro District
Meeker Sanitation District
Montezuma Water Company
Mountain W&SD
Parker W&SD
Plum Creek WWTP
Red Rocks Community College
Ridgegate Subdivision
City of Rockaway, NJ
St. Vrain Sanitation District
Silverthorn-Dillon Joint Sewerage Authority
City of Thornton
Three Lakes W&SD
City of Victor
Wind Cave National Park
Wild Basin Lodge
Wind River Ranch
Wolf Creek Ski Area
City of Boulder Collection and Distribution Dept.
Alameda Water and Sanitation District
City of Broomfield WWTF
Devil's Thumb Ranch WWTF
Fremont Sanitation District
Town of Morrison