Bundle Online Training Courses
Learning paths are a convenient way to buy several courses at once.  You'll save 20% over buying classes individually.  Don't see what you want?  Ask us to create a customized learning path for you.
Training bundles may be purchased from within your iSpring training account.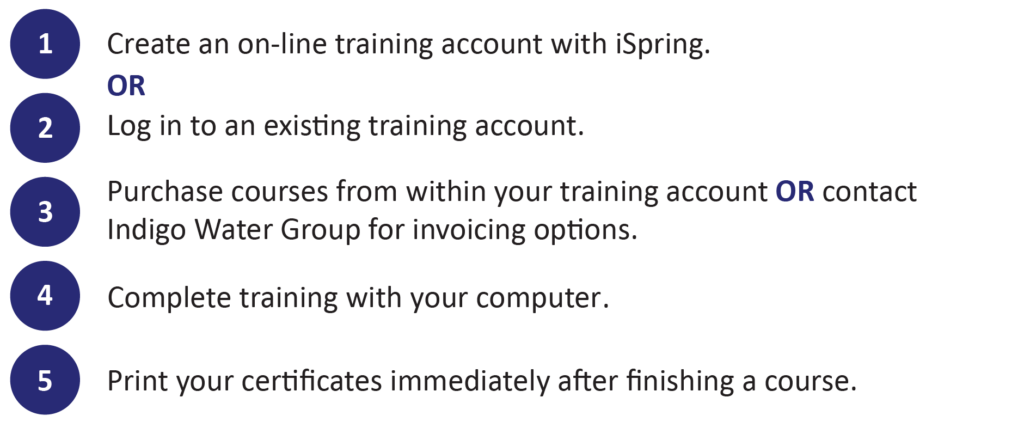 Once a learning path has been purchased, it must be completed before the end of the calendar year.  Contact us if it is late in the year and you need more time to complete the learning path.
The bundles below were developed with Colorado operators in mind.  View detailed descriptions of Colorado license types and renewal requirements.
Not all classes are approved in all states.  Download the course approval list to verify TU and CEU approvals.
Depending on which certification you need to renew, you may need to purchase more than one training bundle.  Wonder which courses you'll find in each bundle?  Check them out here: 2023 Bundle Descriptions and Pricing.  Don't like what you see?  Ask us to create a custom bundle at no additional charge.
Bundles to Meet the 30-Day Hands-On Requirement

We've created two online short schools to help those trying to break into water and wastewater gain the 30-days of hands-on experience equivalent needed to sit for the level D and S examinations. These courses may also be used in place of a high school diploma when applying to take an exam.  Both courses provide at least 32 hours of instruction.  For more information, click on the links below.
2023 Drinking Water Short School